Now that Jacob Hooy enters the market with an athletes targeted product line up I can say I told you so!
I have seen this coming in early 2018 and my vision was based on my own personal experience as an athlete with CBD and my knowledge of the sport supplement industry. I have done presentations to cbd brands at that time who were not convinced that a focus on sports alone would be interesting enough.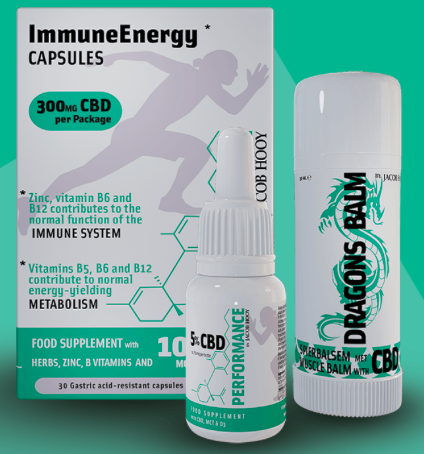 It looks like the industry is now proving them wrong. I used two graphics in my presentation. One the prognosis of growth of CBD products in the USA to the year 2022 (worldwide wasn't available at that time) and a worldwide prognosis of sport supplements. CBD in the USA was predicted to grow to 22 billion US dollars and sport supplements to 44 billion US dollars. Take in account that the prognosis was about all categories CBD products.
As I wasn't able to get an existing CBD brand behind me to create a full CBD product line up for athletes and active people I started my search for the gems in the CBD industry that I thought were interesting for athletes.
With these products I was able to gather an enthusiastic team of professional athletes and trainers behind me that started testing these products. The feedback taught me that most of the conventional CBD products were and are not interesting to athletes because of different reasons.
1: They dislike the taste
2: They don't understand how to use it
3: They don't like the look and feel of the product
4: The don't feel the benefits when using the product
5: It's too expensive
6: It's another extra supplement in their already full of to take products in their daily regimen that they do not want to change.
So where was I able to change their aversion towards cbd supplements?
I was able to win their hearts for CBD with products that had immediate effect. A lot of education was, and still is, needed to get them to use CBD the right way to get the most out of the benefits the cannabinoids can give them. Almost every CBD manufacturer wants to enter the market with a CBD tincture. In an earlier article I already expressed my doubts on drops being the best product for athletes. It will still take a while before athletes get that. If you look at the categories in sport supplements you basically find the answer on what has their interest. Add topicals to that and you have a product line up. In my shop you'll find the categories apply to your skin, eat or drink and swallow. CBD integrated in supplements they already use on a daily basis. There is a category for drops too, but believe me that is out of an athletes comfort zone.
CBD brands must realise that you can win the athletes interest by giving them products they are used to. In my articles I have talked about "what's in an athletes bag?" and that is where your CBD product should be. I have seen some very innovative products like CBD impregnated sportswear, what probably is somewhat complicated with returning the gear and have it impregnated again and now I see CBD infused KT Tape. When an area of the body is injured through impact or over-use, the lymphatic fluid builds up causing inflammation and swelling. This accumulation of lymphatic fluids may cause increased pressure on muscles and tissue which can cause significant discomfort or pain*. It is believed that when applied correctly, KT Tape lifts the skin, decompressing the layers of fascia, allowing for greater movement of lymphatic fluid which transports white blood cells throughout the body and removes waste products, cellular debris, and bacteria. *NOT PROVEN CLINICALLY FOR ALL INJURIES.
Athletes already gave me the feedback that patches with added ingredients like turmeric, menthol and omega 3 6 9 work for them. What could very well be a placebo effect that patches tend to have, but patches and tape might very well be lifesavers for athletes with pain issues.
I have seen enough brands that are very innovative like Pachamama with including the superfoods athletes know. Myo Plant Nutrition with their plant based powders athletes look for. Beam with their hydration powders (without CBD!) and a lot of brands with excellent high quality balms to give relief on sore muscles and painful joints and Gaia Botanics with their energy formula pre-workout capsules. Products like this will win the athletes hearts because it makes sense including these products in their daily regimen.
They will use drops eventually when they have experienced that cannabinoids can work for them, but it usually is not the first product that wins their hearts. With a tincture, a balm and some capsules you will probably need an influencer to get attention to your products, but in my opinion that's not for the long run. It will be a one time buy for an athlete and they will go back to the supplements they are used too. If you are in it to help athletes reach their goals with innovative and easy to use products you'll have a chance to take a part out of that 44 billion US dollar sport supplement industry in 2022.
Roald Tromp aka Opa CBD is the founder of CBD SPORTS, Public Speaker with a background in Sports Science, Sports nutrition, Professional and Home Fitness Equipment and Education, Master in Sales & Marketing, Ex- Baseball player, Soccer Player, Downhill Skier, Skate- and Snowboarder, Tennis & Ski Teacher and a CrossFit and MMA addict.
Copyright Opa CBD March 2021.
Publication of this article or parts of this article can only take place with authorization of the writer.