SPORT CBD, FOCUS CBD, PAIN CBD, SLEEP CBD, CALM CBD, ANXIETY CBD, INFLAMMATION CBD, RECOVERY CBD?
THE DIFFERENT CBD OIL TINCTURES EXPLAINED FOR A SPECIFIC PURPOSE
Posted by Roald Tromp on February 26, 2021
When we started more than two years ago, we were convinced that CBD could have great added value as a supplement for athletes. The idea of ​​starting something with CBD and Sport has been bubbling in our heads since 2017. The search for CBD products at that time that were specifically made for sports brought us to basically one product. The Living freeze roll-on. `An easy applicable roll-on with ingredients like Arnica Montana an Menthol, that left a pleasant cold feeling on painful muscles and joints.
The oil we started with was from Gaia Botanics. A brand that we imported directly from the USA, was our first CBD tincture that used MCT oil as a carrier and enriched the product with essential oils like apple, lime ginger and peppermint. Not specifically aimed at sports, but much more attractive for an athlete than the previously known dark green, bitter CBD oils with hemp oil as carrier we were used to in the Netherlands. There were no more products other than the dark bitter oils full of weed and hemp leaves on the packaging available in the Netherlands and the rest of Europe at that time. We knew we were not going to conquer the hearts of athletes with that. Change has come in the Netherlands in the last months. Existing Dutch brands launch new products with a CBD tincture aimed at athletes and many new Dutch brands are also coming out with a sports variant of the well-known CBD tinctures.
By themselves, those drops do not directly have a different effect for an athlete than a drop without sport on the label. The active cannabinoids in the tincture do not behave differently in your endocannabinoid system (ECS) if they come from a label that contains the word sport.
Whether a full spectrum, broad spectrum or a cbd isolate is incorporated in the tincture (hemp seed oil, olive oil or MCT oil or water soluble) makes no difference to the purpose of the product. It is the cannabinoid that does the work in your body through your own ECS. So why do you now see a lot of CBD tinctures with a targeted label, such as sport? The benefits that the use of CBD may have, such as anti-inflammatory, pain-reducing, stress-reducing, sleep-enhancing and faster recovery contribute to the increasing number of sports targeted tinctures, but also the increasing popularity of sports supplements in general.

SPORTS SUPPLEMENTS ARE HOT
The sports supplement industry is expected to grow to $ 44 billion worldwide by 2022. Apparently there is still room for many new brands in this, at first glance, saturated industry. In the Netherlands this is also happening in the last couple of years. Orange Fit, MB Nutrition, Clean Nutrition, Dutch Giant, Captain Henk's Bad Standing, Nieky Holzken's Natural Nutrition are all relatively new brands that are conquering their place in an industry where players such as XXL Nutrition, Body Lab and Body & Fit have been operating for years now.
For us, Sports CBD Supplements such as the muscle and joint creams, balm and gel feel like more genuine sports supplements. Just like protein powders, pre- and post workouts, energy drinks, vitamin tablets, etc. with CBD. That is a sports related CBD product clear to everyone.
WHAT MAKES THE CBD TINCTURES SHOWN IN THIS PIECE SPECIFICALLY SUITABLE FOR SPORTS?
In principle, every CBD product and therefore also all types of CBD tinctures are suitable for Sport, taken in account of course there is no THC to be traced in the product. After all, that is a prohibited substance on the WADA forbidden substance list for professional athletes. CBD and other cannabinoids are not. The CBD tinctures that are now appearing on the market with Sport (but also Focus, Sleep, Energy, Rest, Calm etc.) on the label look very cool and specifically for the use for athletes, but tinctures with just CBD do also work for the benefits stated on the labels. Targeted tinctures are often supplemented with other ingredients than CBD that can have a benefit just for that purpose.
Assuming that all these products use natural ingredients, if they don't, we are certainly not a fan, the enhancement of the effect is obtained from substances from other plants, herbs or fruits. When you add valerian, lavender, green tea, melatonin and / or chamomile, it can enhance the calming, sleep-enhancing or stress-reducing effect. Caffeine, guarana or citrus fruits may provide more energy, focus or give concentration-enhancing results, while turmeric and ginger can improve the anti-inflammatory effects. Multivitamins, BCAA, Glutamine, Bergamot Oil, Grapefruit Oil, Ylang Ylang Oil and many more additives are used to make a CBD tincture specific.
The added substances are often essential oils, but terpenes are also used.
Terpenes? Yes terpenes? For us that was also a new English word four years ago, but now we know that it is an old word that is used in the plant nutrition and cosmetic industry. Terpenes are a class of organic molecules derived from isoprene, which are produced in many plants, especially conifers, but can also, in rare cases, be of animal origin. These terpenes are the plant's protection against animals and insects. Characteristic are the taste and smell of a plant. Each plant has its own terpene structure. These terpenes often have health benefits in addition to their smell and taste. The simplest example we can give you is, when you take a bath with lavender oil. The smell makes you calm. Chamomile tea has a similar effect on the human body. For example, mint and caffeine make you alert. In addition to essential oils from plants, the different terpenes from different plants are very often used to make a CBD tincture specific.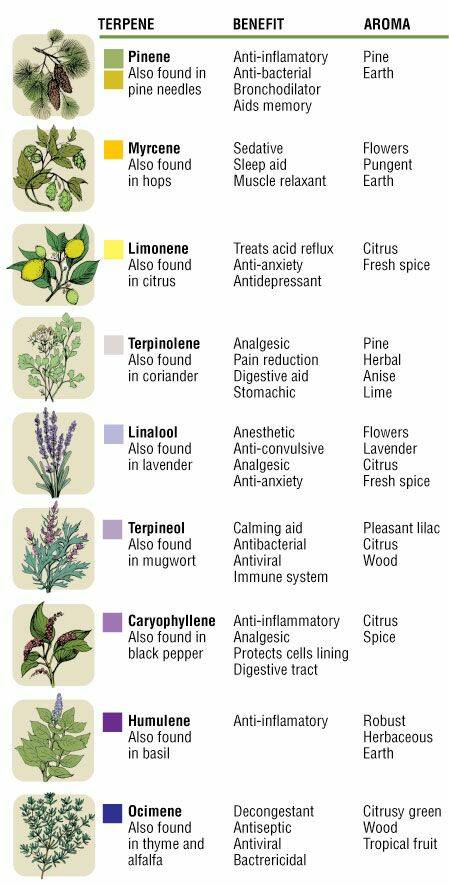 The illustration shows the terpenes of the Cannabis plant family. The specific scent and benefits are listed per terpene. Is a CBD tincture with a specific purpose better than a standard CBD oil? Not necessarily. Because the full spectrum and broad spectrum oil already contains the terpenes of the hemp plant, the benefits in a standard CBD tincture are already abundant. We have been selling CBDialed oils with a specific target since 2019, to great satisfaction of our customers and athletes of Team CBDSPORTS. Anxiety, Sleep and Inflammation.
Besides the fact that the terpene mix does have a function, it is of course also true that a placebo effect is likely. Do you firmly believe that the sleep CBD tincture makes you sleep better, then it certainly will fulfil that promise. The health benefits of CBD, but also all the additives mentioned have not been sufficiently scientifically researched. A target CBD tincture with the label pain, for example, is against the rules. It suggests that it acts like an NSAID (Non-steroidal anti-inflammatory drugs) such as ibuprofen, naproxen and diclofenac while it doesn't. We do get a lot of feedback from our customers and athletes that the CBD has reduced or even completely replaced the use of these NSAIDs however, CBD does have far fewer negative side effects than these NSAIDs.
Actually there is only one side effect. The use of CBD does have a side effect if you are on medication. It can cause an interaction with your medicine and cause the drugs to not work as expected with all the negative consequences that come from that, such as negative effects on your liver. Is that something you should be afraid off? Not really. Lots of natural products do interact with prescription drugs. Like grapefruit, gingseng and garlic. So always consult with your doctor first if you are on medication. If you want to know if CBD is something for you as an athlete, you will just have to try it.
We are happy to help you with how to start and with which of our products you can do this.