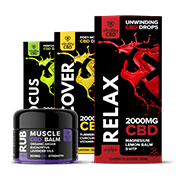 At Vitality CBD, we've created a strong community of CBD users through combination of our extensive knowledge and commitment to the industry. With this mindset, we are devoted to producing only the best CBD products for our customers that they can not only love, but also have confidence in. Since being established in the UK in 2018, we have expanded our product range to deliver varying everyday wellness solutions through the innovation of CBD. Our dedication and enthusiasm for our products only continues to grow, and we are proud to have been titled the UK's leading CBD brand in 2019.
After developing our Well-Being range of premium CBD products, we then introduced our Active range, a bespoke collection of CBD oils and our CBD Muscle Balm which assists those with healthy, active lifestyles to stay on top of their fitness routines. Our most recent CBD Infused Cosmetics range aims to reinvent ordinary skincare routines, offering individuals the chance to target and replenish their skin concerns with natural processes that their bodies will appreciate. From our CBD oils to CBD topicals, and our CBD e-liquids to CBD edibles, we've made the conscious effort to ensure that each of our products are organically sourced with THC free high-quality hemp extract.
Consumers' trust is one of our core values, so we've made sure to be transparent and offer full traceability for our products. As a brand, we highly value the safety of our customers, and ensure to undertake safety measures including third-party testing for each and every one of our CBD products to offer maximum accuracy and satisfaction.